ASTRID FITZGERALD
ABOUT THE ARTIST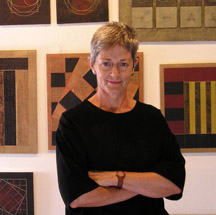 Born and educated in Switzerland, Astrid Fitzgerald has been living and working in New York City and the Hudson Valley since 1961. She showed an early interest in drawing and constructing objects. 'Pretend' letters to a friend, written at age 7, foretell her emigration to America.
Her work has been shown in eighteen countries in solo, group and travelling exhibitions, and is represented in major corporate, museum and private collections.
Recent shows include The Gallery at R&F, Kingston, NY; Garrison Art Center, Garrison, NY; Unison Arts Center, New Paltz, NY; The Pearl Arts Gallery, Stone Ridge, NY; LoRiver Gallery, Beacon, NY; Galerie Raubach, St. Gallen, Switzerland; Muroff-Kotler Visual Arts Gallery at SUNY Stone Ridge, NY. Fitzgerald's installation Amish Quilts was chosen by the Jury of the Artcanal in Le Landeron, Switzerland to represent the United States during expo02.
Major site-specific commissions include Union Bank of Switzerland, New York, NY; IBM, Marcel Breuer Building, Boca Raton, Florida; Kindercare Corporation, Montgomery, Alabama; IBM, Atlanta, Georgia, Ridgeway Corp. Atlanta; UBS Securities, New York City.
Fitzgerald is also the author of An Artist's Book of Inspiration - A Collection of Thoughts on Art, Artists, and Creativity - 1996, Being Consciousness Bliss - A Seeker's Guide - 2002, both by Lindisfarne Press, and Winter Break - A Luminous Journey into Wisdom and Love - A.R.K. Books, 2008.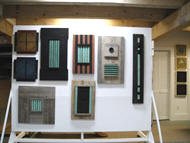 click on image for more studio pictures

ASTRID FITZGERALD'S RECENT INTERVIEW WITH JULIE KARABENICK, EDITOR OF GEOFORM - AN ONLINE SCHOLARLY RESOURCE AND INTERNATIONAL FORUM

Click here for more details and installation shots

EDUCATION

1972-1973 Pratt Graphics Center, New York, NY

1968-1969 Fashion Institute of Technology, New York, NY

1962-1963 Art Students League, New York, NY

1958-1959 Polytechnic School, London, England

1955-1958 College St. Agnes, Fribourg, Switzerland

AWARDS

2012 NYFA MARK 12 Bootcamp Award, NYC

2002 Art Canal, Le Landeron, Switzerland - Amish Quilt Installation

1980 1980 Juror's Award - 4th Annual Small Works Competition, N.Y. University, NYC

1978 1978 The Charles Levitt Award - National Academy Galleries - N.A.W.A. Annual, NYC

1973 1973 The Michael M. Engel Memorial Award - National Arts Club, 19th Annual N.S.P.C.A, NYC

1971 1971 Second Prize and Honorable Mention - The New Yorker Theater Mural Competition, NYC

SOLO EXHIBITIONS

2013 Wired Gallery, High Falls, NY - Astrid Fitzgerald - A Retrospective - Pop-up location: 104 Main Street, High Falls, NY

2011 The Gallery at R&F, Kingston, NY - Astrid Fitzgerald: Waxing Geometric

2010 Unison Gallery, New Paltz, NY - Astrid Fitzgerald & Kim Alderman (2-person)

2010 Garrison Art Center, The Gillette Gallery, Garrison, NY - Assemblages & Paintings

2008 Pearl Arts Gallery, Stone Ridge, NY - Eternal Egypt - Collage and Encaustic

2005-2006 Wuersch & Gering, New York, NY - Works on by Astrid Fitzgerald

2005 LoRiver Arts Gallery, Beacon, NY - Astrid Fitzgerald & Kotani - New Paintings (2-person)

2002 Galerie Raubach, St. Gallen, Switzerland, Constructions and Works on Paper

2001 Galerie Raubach, St. Gallen, Switzerland, Works on Paper

2000 Muroff-Kotler Visual Arts Gallery, SUNY at ULSTER, Stone Ridge, NY - Cosmic Measures

1996 Murakami Gallery, New York, NY - Lynda Benglis, Astrid Fitzgerald, Louis Liberman

1996 Kunstgalerie Hyposwiss, Zurich, Switzerland - Bilder und Objekte

1993 Galerie Neue Kunst, Wil, Switzerland - Im Goldenen Schnitt

1986 Pietrasanta Fine Arts, New York, NY - Paintings and Pastels

1981 Atlantic Gallery, New York, NY - Paintings and Prints

1981 Galerie Steinfels, Zurich, Switzerland - Aquarelle, Farbstift

1980 Atlantic Gallery, New York - Shaped Canvases and Prints

JURIED EXHIBITIONS AND COMPETITIONS

2013 Cut & PASTE - Regional Exhibition, juried by Michael Asbill - Muroff Kotler Visual Arts Gallery, SUNY Ulster, Stone Ridge, NY

2013 Assemblage & Collage, juried by Lynne Perrella - CCCA Hudson, NY

2011 Projects Gallery, Philadelphia, PA - Abstraction

2011 James Oliver Gallery, Philadelphia, PA - Physical Graffiti: 13 artists transforming time & materials

2010 SUNY Ulster, Stone Ridge, NY - Marks that Matter

2007 SUNY Ulster, Stone Ridge, NY - Beyond Self: Contemporary Explorations in Art & Spirit

2003 Marist College, Poughkeepsie, NY - Encaustic Works '03

2002 1001 Reasons To Love The Earth - International Art Project - Europe and Asia

2002 Artcanal Exhibition - Le Landeron, Switzerland - Amish Quilts installation

1997 Artists Equity 50th Anniversary Exhibition, Broome Street Gallery, New York, NY

1996 The College of Santa Fe Arts Gallery, Santa Fe, NM - Maximum Drawings

1980 New York University, New York, NY - 4th Annual Small Works Competition

1979 Parsons Exhibition Center, New York, NY - 57th S.A.G.A. National Print Exhibition

1979 The National Arts Club, New York, NY - 6th Graphic Exhibition

1978 Aldrich Museum, Ridgefield, CT - Contemporary Reflections

1975 University of Southern California, Los Angeles, CA - 3rd National Print Exhibition

1975 Metropolitan Museum, Miami, FL - 2nd International Miami Graphics Biennial

1973 Pratt Graphics Center, New York, NY - Pratt Graphics Annual Competition

1973 Miami Art Center, Miami, FL - 1

st Miami Graphics Biennial

1973 The National Arts Club, New York, NY - 19th Annual N.S.P.C.A.

SELECTED GROUP EXHIBITIONS

2013 Mostly 3D - Wired Gallery, Stone Ridge, NY

2013 Gallery 66ny, Cold Spring, NY - Inaugural Exhibition

2012 Erica Price Gallery, Saugerties Performing Arts Center, Saugerties, NY - Blue

2012 Erica Price Gallery, Saugerties Performing Arts Factory, Saugerties, NY - Inaugural Exhibition

2012 ArtVue Exhibition, Bayer Health Care, Executive Offices, Wayne and Montville, NJ - September - December, 2012

2008 Visionary Artists for Tibet - Kuenstler erschaffen eine positive Vision für Tibet, Zurich, Switzerland

2008 Pharos = Ten - Nicosia Municipal Arts Centre, Nicosia, Cyprus

2008 Wuersch & Gering, NYC - 10 YEARS OF WUERSCH & GERING

2005 CAR.N Contemporary Art Festival, Nebula, Japan - International Invitational

2000 The Sharjah Arts Museum, Sharjah, United Arab Emirates - International Exhibition

1995 Parsons School of Design, New York - Harmony By Design: The Golden Mean

1995 Kendall College of Art & Design, Grand Rapids, MI - Harmony By Design: The Golden Mean

1994 Washington Design Center, Washington, DC - Harmony By Design: The Golden Mean

1993 Merchandise Mart, Chicago, IL - Harmony By Design: The Golden Mean

1990 Credit Suisse, New York, NYC - Between Two Worlds

1987 The Swiss Institute, New York, NY - Holiday Exhibition

1986 The Swiss Institute, New York - Structure & Shadow

1985 Nohra Haime Gallery, New York, NY - Pastels

1984 Steiger Jones Gallery, New York, NY - Works for the Summer of 1984

1983 Jayne Baum Gallery, New York, NY - Pastel Invitational

1982 Jayne Baum Gallery, New York, NY - Premiere Exhibition

1981 Atlantic Gallery, New York, NY - Small Works

1977 Long Island University, Brooklyn, NY - Printmakers 12

1977 The National Academy Galleries, New York, NY - NAWA Annual

1977 Atlantic Gallery, Brooklyn, NY - Printmakers 12

1975 M. Knoedler Gallery, New York, NY - Young Collectors

1975 Union Carbide, New York, NY - Young Artist 75 - U.N. Exhibition

1974 Cornell University, Ithaca, NY - Print Exhibition

1973 Albright-Knox Art Gallery, Buffalo, NY - Print Exhibition

JURIED TRAVELING EXHIBITIONS

1978/79 Post-Card Size Art - Arte Fiera, Bologna, Italy, Basel Art Fair, Switzerland; Biennale, Venice, Italy; PS 1, New York

1976/78 Traveling Water Media Exhibition, USA - Memphis State University; University of Wisconsin; and other universities

1975/77 Traveling Graphics Exhibition, USA - Rockhurst College; Watkins Institute; Cayuga Museum of History and Art

1974/75 Traveling Works on Paper - National Tour of Museums and Universities

SELECTED COMMISSIONS

1990 Union Bank of Switzerland, New York, NY

1990 Hyatt Regency Hotel, Albuquerque, NM

1988 IBM, Atlanta, GA

1985 Kindercare Corporation, Montgomery, AL

1985 IBM, Marcel Breuer Building, Boca Raton, FL

1985 Ashley Plaza Hotel, Tampa, FL

1984 Ridgeway Corporation, Atlanta, GA

1984 Coin Corporation, Atlanta, GA

SELECTED PUBLIC AND CORPORATE COLLECTIONS

Aldrich Museum of Contemporary Art, Ridgefield, CT; NY; Marymount College, Tarrytown, NY; Wellesley College, Wellesley, MA; Town Hall Collection, Wil, Switzerland; Alexander & Green, New York, NY; Amerada Hess Corporation, New York, NY; American Express, World Financial Center, New York, NY; Anderson Kill Olik, & Oshinsky, PC, New York, NY; Bank of the South, Atlanta, GA; Bank of America, New York, NY; Bay Colony Properties, Jacksonville, FL; Carlton Fields, Ward, Emmanuel, Smith & Cutler, Tampa, FL; Chase Manhattan Collection, New York, NY; Chemical Bank Collection, New York, NY; Christman Associates, New York, NY; Citibank, New York, NY; Cooper Carry Architects, Atlanta, GA; Credit Suisse, New York, NY; Dechert, Price & Rhoads, New York, NY; DiGiacomo, Architects, New York, NY; Duke Power Co, Charlotte, NC; Education Management Center, Atlanta, GA and Pittsfield, PA; Egon Zehnder International, New York, NY; Embassy Suites Hotel, Washington, D.C. and Deerfield, IL; Fannie Mae, Atlanta, GA; First Citizen National Bank, Greensboro, NC; First Manhattan Co., New York, NY; Florida National Bank, Jacksonville, FL; General Cocoa Co, Inc, New York, NY; G. Tsai & Co, New York, NY; H.B.O. Atlanta, GA; Hyposwiss, Zurich, Switzerland; I.M. Pei & Partners, Architects, New York, NY; I.B.M. Collections: New York, NY, Atlanta, GA, Boca Raton, FL, Valhalla, NY, Charlotte, NC; Irving Trust Co, NYC; Rockefeller Center, New York, NY; Kaye, Scholer, Fierman, Hays & Handler, New York, NY; Lehman Bros, New York, NY; L.F. Rothchild, Unterberg, Towbin, NYC; Loews Hotel, Monaco; Manufacturer's Hanover Trust, New York, Milbank, Tweed, Hadley & McCloy, New York, NY; Mutual Life Insurance Company, NYC; New South Design, Atlanta, GA; Nikko Hotel, Beverly Hills, CA; NY Stock Exchange, Inc, New York, NY; Northern Telecom, Inc, White Plains, NY; Peat Marwick Mitchell & Co, New York, NY; P & E Properties, New York, NY; PES Architects & Engineers, Nagoya, Japan; PES International, New York, NY; Price Waterhouse, Dallas, TX; Reid & Riege, Hartford, CT; Reynolds Tobacco Co, Winston-Salem, NC; Rockefeller Center Collection, New York, NY; Siegel & Gale, Inc, New York, NY; Shaw, Pittman, Potts & Trowbridge, Washington, DC; Boring-Smith, Atlanta; Skadden, Arps, Slate, Meagher & Flom, New York, NY; Steelcase Inc, New York, NY; Stephen, Jacques, Stone, James, New York, NY; Texaco, Westchester; UBS Securities, New York, NY; UBS, Wolfsberg, Ermatingen, Switzerland; Union Bank of Switzerland, New York and Zurich; Union Carbide, New York, NY; Warburg E.M. Pincus & Co., New York, NY; Hilton O'Hare, Chicago; Washington Hotel, Osaka, Japan; Western Pacific, New York, NY; W.R. Grace & Co, New York, NY; Yamaha Marine Building, Japan; Zale Corporation, Dallas, TX; UBS, Zurich, Switzerland

SELECTED PRIVATE COLLECTIONS

Albert Anton, NYC; Peter Kaufman, Rotterdam, Holland; Ernie Leonard, NYC; Heidi Arbenz, Winterthur, Switzerland; Mr. and Mrs. Thatcher Brown, III, NYC; Mr and Mrs Neil Broxmeyer, Roslyn Heights, NY; M. DeLaszlo, NYC; Joy Dunbar, NYC; Frau Eberli, Wil, Switzerland; Dr Forrer, Weinfelden, Switzerland; Edgar Frei, Burg, Switzerland; Dr Richard G. Geldard, NYC; Marion and Whitney Gerard, NYC; Heidi and Leo Graemiger, St. Gallen, Switzerland; Guadalupe Grimaldi, NYC; Dr Haag, Sirnach, Switzerland; Madeleine and Kurt Huerlimann, Wattwil, Switzerland; Elizabeth Harrington, NYC; Jeffrey Harris, NYC; Mr & Mrs Oskar Leutwiler, Zurich, Switzerland; Elizabeth Laemmli, Geneva, Switzerland; Dr and Mrs Francis Perrone, NYC; Ellen Price, NYC; Kay Prothro, NYC; Tonia Siddiqi, NYC; Takatoshi Ishiguro, Nagoya, Japan; Reiko Ehrman, New York, NY; Roger Rohner, Bronschofen, Suisse; Rita & Ueli Thalmann, Winterthur, Switzerland; Stadtamman W. Hartmann, Wil, Suisse; Mr &Mrs William Fox, New York, NY; Dr Ziba DeWeck, Zurich, Switzerland; Dr & Mrs Louis Ormont, New York, NY; Laurance Triplette, Clemmens, NC; Dr. Jean Luc Meyer, Wattwil, Swisse; Jahnavi Foster & Alfonse Pinto, Kerhonkson, NY; Mr & Mrs R. Wipf, Winterthur, Swisse; Shisano Ishiguro, Osaka, Japan; Prof Dr Grimm, Berlin, Germany; Dr jur Barbara Wyler, Frauenfeld, Switzerland; Brigitte Hornauer, Kirchberg, Suisse; Ursula & Robert Garret-Waldmeyer, Napanoch, NY; Priscilla Claflin, Benton, LA; Garo Keheyen, Nicosia, Cyprus; Chrissy Glenn, Stone Ridge, NY; Frank Dunn, Hurley, NY; Allen A. Pluth, PhD, Spring Valley, CA; Maria Moraes & Alex Dzieduszycki, NYC; Dr Kent & Gretchen Fitzgerald, Emmaus, PA; Daniel & Suzanne Wuersch, Mountain Lakes, NJ; Roger Lipsey, PhD, Garrison, NY; Steve Gorn and Barbara Bash, Accord, NY; Johanne Renbeck, Clinton Corners, NY.

SELECTED BIBLIOGRAPHY

Back to Fundamentals - Article. Fashion Deisgner, Lucy McInthos, inspired by Swiss painter Astrid Fitzgerald.

Waxing Geometric - Solo Exhibition by Astrid Fitzgerald - Roll Magazine, Art Highlights, February 2001.

The Mathematics of Harmony: From Euclid to Contemporary Mathematics and Computer Science by Alexey Stakhov, assisted by Scott Olsen - World Scientific Publishing Co, 2009. Illustrated essay about Astrid Fitzgerald and the use of the Golden Ratio in her work.

Gallery Notes, Garrison Art Center, Garrison, NY, 2010 - Astrid Fitzgerald at Garrison Art Center by Roger Lipsey, Ph.D.

Gallery Notes, LoRiver Arts Gallery, Beacon, NY, 2005 - Astrid Fitzgerald & Kotani: The Mountain Way and the River Way by Roger Lipsey, Ph.D.

Quadrant - Art Reproduction in the Journal of the C.G. Jung Foundation for Analytical Psychology, Winter 2007

Interview Pulse, April 2005 - About the Artist Astrid Fitzgerald by John Nelson

ArtCanal Catalogue, 2002, International Sculpture Exhibition along the Zihlkanal.

1001 Reasons To Love the Earth - World Art Collection, Stichting 2000 Foundation, Diement, Holland, 2001
UBS Information, 1996, Exhibition review Eine Kuenstlerin von Kraft und Harmonie, by R. Mueller.
Laudatio by Ziba De Weck, Ph.D., January 1996, Kunstgalerie Hyposwiss, Zurich, Switzerland.
Exhibition Review, 2/14/1996, by Annemarie Stuessi.
Wiler Zeitung, Article Eine Wilerin macht Karriere in New York , by Marlene Tanner.
Exhibition Catalog, presented by Credit Suisse, 1990, Between Two Worlds.
Kuenstlerverzeichnis der Schweiz, 1980-1990, Swiss Institute for Art Research, Zurich, Switzerland.
Exhibition Review, 1985, The Art of Astrid Fitzgerald - New Images, Old Faith - Roger Lipsey, Ph.D.
Swiss Artists in New York, 1985 by Richard Pichler.
Wiler Zeitung, 2/26/1981, Exhibition review, Galerie Steinfels, Zurich, Switzerland
New York Times, 5/21/78, Aldrich Museum Show: An Eye-Opener by Millie Siegel.
Who is Who in America, since 1980

American Artists - Illustrated Survey of Leading Contemporary Americans, Les Krantz, 1985
Printworld Directory of Contemporary Prints, since 1981
Competition Winner Catalog, 1973 Ntl. Community Arts Program, U.S. Department of H.U.D.
Catalogue, 1978, Contemporary Reflections, Aldrich Museum, Ridgefield, Conn.

Who's Who in the 21st Century - First Edition, Cambridge, England

Who's Who in American Art - Jacques Cattell Press, since 1986

Chronogram - Art reproductions - October 1996

Parabola Art reproductions - vol. 23, 1998; vol. 25, 2000; vol. 27, 2002

Marquis Who's Who in American Art, since 1997

Contemporary Authors New Revision Series, Farmington Hills, MI

The Artists Bluebook - 29,000 North American Artists, Dunbier, 2003

Schweizerisches Institut fuer Kunstwissenschaft, Zurich and Lausanne, Switzerland

Biografisches Lexicon der Schweizer Kunst

CURATORIAL PROJECTS

MUSEUM OF THE GOLDEN RATIO - A GEOMETRY OF LIFE AND ART: A virtual museum dedicated to collecting and preserving individual expressions in art of the myriad aspects of the Golden Ratio, a mysterious and magical principle which appears in nature, architecture, and mathematics.

BOOKS AND ARTICLES BY ASTRID FITZGERALD

Illustrations and Photographs by Astrid Fitzgerald for Traveler's Key to Ancient Greece, NY: Alfred A. Knopf, 1989.
Article by Astrid Fitzgerald, Harmony by Design, NY: Parabola Magazine, 1991.
An Artist's Book of Inspiration - A Collection of Thoughts on Art, Artists, and Creativity Compiled by Astrid Fitzgerald, Hudson, NY: Lindisfarme Press, 1996.

Being Consciousness Bliss - A Seekers Guide by Astrid Fitzgerald. Great Barrington, MA: Lindisfarne Books, 2002.

Winter Break: A Luminous Journey into Wisdom and Love by Astrid Fitzgerald. A.R.K. Books, 2008
---
Constructions Paintings Works on Paper Prints Screens About the Work Books Artists' Books
Exhibitions Reviews Golden Mean Internet Galleries Thematic Series Contact